Blog of the Month; Young Homemakers
12:51 PM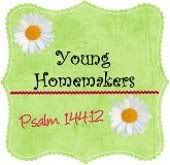 When I started this blog, it was to showcase my writing and to get feedback from others. Little did I know that God would use it to bring some amazing people into my life. I had been blogging for about two or three months when a couple of girls started their own blog,
Young Homemakers
and found their way to mine.
Rachel and Jessica have become some of my dearest friends on earth, even though I have never met them. They have made me laugh, cry and praise God for what he has done. Their blog is not just a place to keep up with what is going on in their lives, but a place to be encouraged in your faith, inspired in your homemaking, and find the likeminded to fellowship with.